Rent a car Lisbon,Portugal: Car rental at Naniko in Lisbon
Lisbon is a land of fascinating beauty and the history which counts almost twenty centuries. It is the biggest city and capital of Portugal, the most western European capital.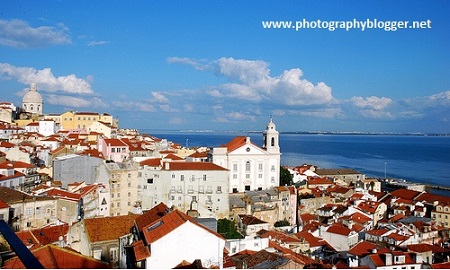 The population of the City is about 600 000 inhabitants, but in the line of metropolitan is almost three millions, what makes one third of the whole population of Portugal. Inhabitants of Lisbon are descendants of numerous sailors who furrowed the Portuguese seas through centuries.
The city is raised over the seven pictorial hills and situated in the wide mouth of river Tago. Two banks of the river are connected by two large bridges: one is the bridge on 25 April inaugurated in 1966, and another one is named after
Vasco da Gamma
and dedicated in 1998 to the event of 500 years of discovering the India by the great navigator.
Lisbon has its own emblem of the city. The emblem is presented by golden shield and the boat encrusted on it, which is floating on the seven waves.
There are numerous public and private Universities, Libraries and Museums, as The National Museum of antique art and the Oceanarium. Impossible not visit also Planetarium situated on the site of the Marine Museum, not so far from the famous Monastery of Jeronimo at Belem.
Lisbon is the place of birth of the singers of Fado. This cultural tradition gave a birth to the famous Portuguese solo, kind of melancholic genre, what attracts a lot of tourists to this place.
The architectural style of the city is Manuelino and Baroque, the heritage of the participation of different nations, especially French's and Arabs. The splendor of the architectural style attracts the tourists from Europe and the entire world.
The best decision would be once visit this splendid city than read about it.
Rent a car in Lisbon at Naniko.
For the free movement in the city and having the maximum pleasure with saving self energy, we would suggest to rent a car from company Naniko. Wide assortment of cars in best condition and accessories, services created by thinking of customer's requests will surprise and satisfy even the most particular clients.
Car rental in Lisbon at cheap price
Comfortable and fast online system of reservation in car rental company Naniko, low and acceptable price including the taxes and insurance, very polite working team, 24-hours in the disposition of their clients; all of these and other pleasant surprises of services are making very attractive Naniko for its customers. Wish you to enjoy a trip in Lisbon with the cars of Naniko
FIND ALL NANIKO LOCATIONS »