Rent a car Chisinau,Moldova: Car rental at Naniko in Chisinau
Chisinau is the capital and largest city of Moldova.
The city is the economic and cultural center of the country.
It is located in the center of the country, on seven hills on the river Bic.
In the annals of 1436 the city was first mentioned. Chisinau has a special status – the municipality.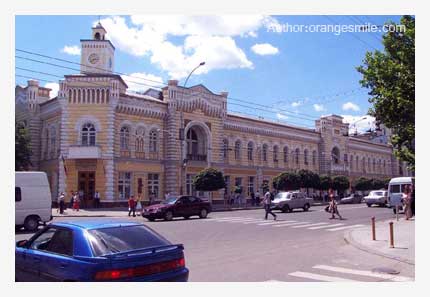 Besides Chisinau the municipality includes also 6 cities: Singera, Vatra, Durlesti, Codru Vidul-lui-Voda, Krikovo and 25 settlements.
The total area of ​​635 km2
The city's name comes from the Turkish word "Kishly" which means – "ghetto." Chisinau is the greenest city in Europe, as in all the streets are trees, there are also many gardens and parks.
There are growing rare plants. So Chisinau in the summer is buried in greenery entitle.
Chisinau recently become more and more attractive city.
Tourists come here from many countries.  
There are many places to admire and enjoy in the city.
Due to the fact that the city has a long history, there are many ancient buildings and monuments.
The oldest building in the city – it Mazarakievkaya church in (1752), the church name Constantine and Helen (1777), etc. 
In major  the  houses of the city are built up from the brick.
Presently, there are different types of transport: buses, taxis.
But when tourists come to the city it is very difficult to travel by public transport, as they do not know the city well and can get lost.
And to take a taxi every minute is expensive.
It is in such a situation advantageous to hire a car.
This service is popular around the world.
Car rental in Chisinau is in great demand.
There are many companies that offer this service.
"Naniko rent a car" company that exists in the market for a long time, is planning to open an office in Chisinau.
Our company will offer the best services.
You will be able to get online to book a car on the internet.
Already at the airport you will be expected our driver on a luxury car and  your visit in the city  start  already successfully from the airport.
We will offer cars from economy to business class.
They will be insured by the best insurance companies.
Cars will have regular checkups. Still, if the car damage, it will be replaced by another at any place of the city.
The  GPS service will accompany you on all the roads of the capital. The cost of the service will include VAT.
With the cars of company "Naniko rent a car" you spend unforgettable time in the city.
comfort and luxury accompanies you wherever you go!
FIND ALL NANIKO LOCATIONS »