Rent a car Antalya, Turkey: Car rental at Naniko in Antalya
The famous resort of Antalya in Turkey is in the southern part of the country, at an altitude of 30 m above sea level. This beautiful city was founded in the 2nd century BC.
Today Antalya is a favorite tourist destination for recreation. Beautiful sandy beaches, clear water of the Mediterranean Sea, the warm climate makes the rest memorable. The excellent recreational resources make the city the pearl of the country. It attracts tourists from many countries.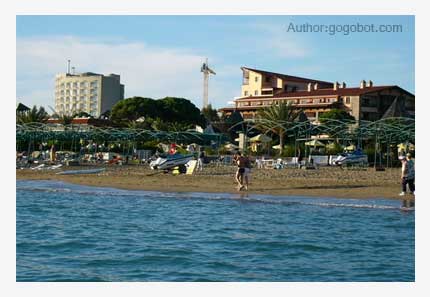 Besides the fact that Antalya has a unique coastline, the city itself is very interesting. Traces of the Roman and Byzantine culture in the form of monuments meets you at every step: mosques, minarets, castles and the remains of walls…
The whole town is sunk in the green, a lot of beautiful parks and squares, boulevards give the city a unique appearance. The beauty of waterfalls (Duden, Manavgat, Kursunlu) impresses visitors. Not far from the city, 40 kilometers away is the ski trail.
Not every town has a well-developed infrastructure, as Antalya. Government allocates huge sums for the building of new roads, streets, fairing, etc. Many tourists acquire property in Antalya. The city authorities are doing everything possible to ensure that the city has become attractive for housing foreigners.
Many before coming to Antalya rent a car from car hire companies. Traveling by public transport or taxi is not very convenient in an unfamiliar city.
Rent a car in Antalya is a very popular service, so "Naniko" decided to open an office in the city.
Our company will offer the consumer the best cars of different classes and production. Rent a car from "Naniko"will be possible before arriving to the city via Internet in online mode or by telephone. Immediately upon arrival in the city you will meet the driver of the company at any place and give you a car.
To avoid getting lost on unfamiliar roads of the city, the car will be equipped with a navigation system.
We offer you:
Unlimited mileage
Driver services
Additional accessories
The cost of rental will include VAT and insurance
Rent a car very soon from our company at any time at affordable prices. We are ready to serve both business and leisure travelers!
FIND ALL NANIKO LOCATIONS »