Rent a car in Ireland at Naniko
Ireland is an island in the north part of the Atlantic Ocean. From the southeast part an island is washed by the San Diego Channel, from East by Irish Sea and from the north-eastern part by North Channel.
The island is divided in two parts: The Republic of Ireland with capital city Dublin and as the part of the United Kingdom with the capital Belfast. Historically, the country was separated on 32 counties. After declaring its independence, the Ireland received the sovereignty in 26 of them and another 6 counties of the province of Ulster they were subordinated to the United Kingdom.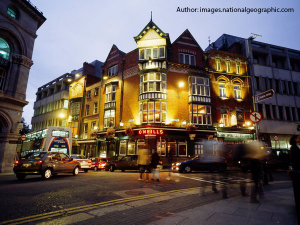 The territory of the island is 84 000 square km and characterized by an average high hilly range, which surrounds the island in the shape of prolonged collar, including the central and flat regions. The highest hill is Carrantuohill and counts 1041 meters. Also well known the reliefs of Errigal, Wicklow and the mount of Saint Patricks.
The Ireland is divided in two parts by the river Shannon, the main and the longest river of the country and entire British Archipelago, with the length of 320 kilometers. Besides, the island is characterized by the numerous small rivers and tributaries.
The coastline of Ireland is characterized by the golden sandy beaches and the dramatic views of cliff banks, what attracts a lot of surfers. Most famous and impressive are the Cliffs of Moher and the highest peak of Europe – Slieve League.
Thanks to its moderate and rainy climate, the dominate colour of the landscape is green, which recognized also as a national colour. Because of the natural green cover the island is named as an Irish Emerald.
In order to enjoy the unique beauty of the flora of the island, Ireland annually is visited by a huge number of people.
There are five protected sites, parks and reserves on the island. Eastern cost over the line there are numerous small islands.
During the travelling most of tourists prefer to
The most settled city is Dublin.
The Irish folk music is famous in all over the world and differs by its particular and colorful dances.
Rent a car in Irish at Naniko
The wide spectrum of services, the fully oriented on your commodity working team of company, will make easier the task of the rental.
Your faithful companion and creator of your comfort in this splendid trip will be the Car rental company Naniko.
There are autos of any requested criteria's and conditions, additional accessories will make your trip in mountain safety. There are surprisingly pleasant an easy system of online reservation, low cost including the taxes and insurance and the possibility to return the auto in the place where you will finish your trip.
Try to travel in the unspeakable beauty of Emerald Island with the comfort, which is created for you by Rental Company Naniko.
FIND ALL NANIKO LOCATIONS »