Rent a car in Kutaisi

Cars available in Kutaisi now
Car rental company in Kutaisi. The most unforgetable journey round Georgia. We offer you a big variety of car rental service in Kutaisi.
Rent a car in Kutaisi does not take you a long time.
Our main strong point is comfort and safety that play the main role in man's opinion about the car. We offer a great variety of cars.
You can phone us o at any time and get advice about cars. All cars are in good conditions and run diagnostics. Rent a car in Kutaisi is just contact us and our operator to make reservation for you with great pleasure.
Car rental company "Naniko" is opened its office in Kutaisi on 1 October 2012 year. We appreciate you for your trust.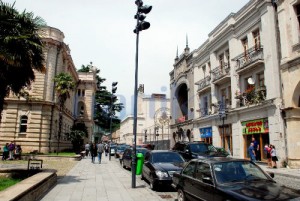 Naniko Rent a Car offers You a car rent in Kutaisi. You are able to hire a car as on the territory of the Kutaisi City, as well as at the airport of Kutaisi Kopitnari. Kutaisi has become one of very important places as many cheap flight airlines are going to fly to Kutaisi airport.
Correspondingly, most wished motor vehicles might be cars of econom class. Although, tourists may wish to drive to Svaneti or other mountainous regions of Georgia such as Kazbegi, Khevsureti, Tusheti where they will need a high passable motor vehicles (SUV).
Accordingly, Naniko Rent A Car in Kutaisi offers You 4X4 cars. Besides, if You travel with Your family, Naniko Rent A Car in Kutaisi proposes Mini Vans for a rent as at the airport as well as at any place in Kutaisi. Car rent company Naniko Rent A Car also offers You a lot of additional services and car accessories such as GPS-Navigators, child seats and many more You many need whilst the drive.
Hire a car in Kutaisi and enjoy the variable sightseeings not only there, but thoughout the whole country – Georgia.
Naniko Rent a Car offers car rental in Kutaisi and cheapest prices. Cheap prices for car rental in Kutaisi is our priority together with high quality.
You not only hire a car from car rental company Naniko Rent A Car, but You receive a service of international standards and in many cases additional offers and discounts.
FIND ALL NANIKO LOCATIONS »